Consumer Warranty Policy
(Retailers and Distributors are advised to contact original reseller or Albatron Representative)
Albatron Technology Co., Ltd. - a Taiwan based manufacturer of computer components provides the following Consumer Warranty policies as described below.
Important: Albatron strongly suggests that consumers first contact the original retailer for warranty information. This is because local/regional warranties may override some or all of the Albatron warranty terms. Sending your products directly to Albatron may also incur additional handling and freight charges.
Albatron provides:
Mainboards
First year - labor and parts are covered
Second year - labor covered, parts are paid for by customer
Three or more years - customer pays for labor and parts
VGA Cards
First year - labor and parts are covered
Second year - labor covered, parts are paid for by customer
Three or more years - customer pays for labor and parts
DRAM Memory
First year - labor and parts are covered
Second year - labor covered, parts are paid for by customer
Three or more years - customer pays for labor and parts
How to search for your mainboard model name?
On some mainboards, the model name is imprinted directly on the mainboard.
On other mainboards, you can find a sticker with the model name on it. See examples below.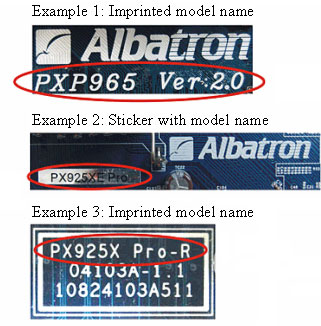 ---
How to search for the model name on a VGA card?
VGA cards have stickers that display either the model name or an abridged model name (see below).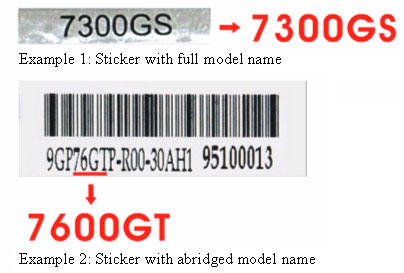 ---
Locating the Serial number of your product.
Your product should come with a bar sticker where you can find your serial number (as shown below).

The starting date of the warranty period begins with the purchase date that is based on a proof-of-purchase (receipt or invoice). If proof-of-purchase is not available, the starting date of the warranty can be estimated from the serial number on the product (which will indicate a production date).
The warranty is void if:

The product has become defective after warranty expiration.
The product or component identification labels (i.e. serial numbers) have been removed/altered or have deteriorated beyond recognition.

The warranty services are not provided if the product had been:

misused/abused by the customer (negligence) subjected to unauthorized disassembly/modification
placed in an unsuitable physical or operating environment
improperly maintained by the customer
damaged by an accident or other circumstances for which ALBATRON is not responsible.
damaged by a natural disaster such as a lighting strike, flood, earthquake, etc. or other natural circumstances (i.e. pet, insect or rodent damage)
ALBATRON reserves the exclusive right to determine the ultimate cause of product failure.

Any product returned to Albatron for servicing must have an RMA number assigned. See "Submitting your part for service" below to learn how to obtain an RMA number.

Any defective products that are returned without a valid RMA number will not be accepted; they will be returned to the customer at the customer's expense.
ALBATRON will charge the customer if:

The product is repaired after expiration of the warranty.
A "No Trouble Found" (NTF) status is determined after the product is tested/calibrated and the warranty period has expired(after warranty expiration only).

ALBATRON guarantees its repair work for 3 months. A second reoccurrence of the SAME problem will be serviced free of charge within a 3 month period after the first repair unless voided by one of the conditions listed in item #3 above.
Submitting Your Part For Service: RMA Numbers
Before sending a part to Albatron for servicing, customers must first register their part with an Albatron RMA (Return Merchandise Authorization) number.
An RMA number is only an authorization for allowing a product to be received by Albatron. Repair or replacement of the product is not guaranteed until the product and warranty has been examined by ALBATRON. To register for an RMA number, please use the FAQ facilities on the Albatron website:
Go to www.albatron.com.tw -> Download & Service -> FAQ
Along with your Name, Telephone and E-Mail address, make sure you enter "Request RMA Number" in the "Title" field. Also fill in an accurate description of your problem in the "Question" field along with the Serial Number and Model Name of your product.
Wait for an Albatron representative to contact you. The representative will assign an RMA number for you if your part qualifies for service. The representative will also explain any costs you will incur.
Once an RMA number is assigned, the Albatron representative will instruct you as to how to deliver your product to Albatron for servicing.
Mainboard defects not covered by Warranty
Defects which are determined to be caused by user negligence or other human factorsare not covered by Albatron's warranty. Examples of such defects are explained by the pictures and descriptions below.
SMT damage to due collision.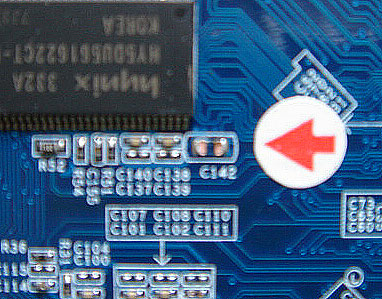 SMT oxidation.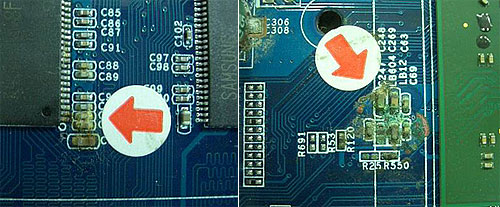 IC burnout.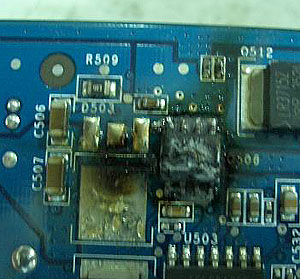 PCB collision damage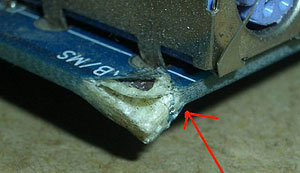 Damage to gold connector pins on card interface
Oxidation due to accidental exposure to moisture.